MANAGING SAFETY WITH COVID-19
Updated safety measures
At Brilliant SA, we care deeply about the health and welfare of our staff, clients, subcontractors, their families. and the community at large. We minimise risk to all by managing hazards and establishing safe practices in our workplace and on our work sites, being our clients' homes.
We take our community responsibilities seriously and believe we should do what we reasonably can to protect ourselves and others from harm.
Since the very early days of the pandemic, we have taken a progressive approach to managing safety for all.
Vaccinations, masks and site requirements
Vaccinations
We require all our team to maintain up to date Covid-19 vaccination (according to ATAGI recommendations).
We require contractors and clients to the same and declare their vaccination status, as some cannot or will not be vaccinated.
General site requirements
Daily sign in and declaration is no longer required, while other requirements still apply:
Maintain up to date vaccinations (according to ATAGI schedule)
Stay away if unwell or suspect you may be infected. If in doubt, get tested
Wear masks as recommended, especially if unable to maintain physical distancing and
Inform Brilliant SA immediately of close contact or infection that may affect our people or projects
Updated signage with the full further information has been prepared to go to all sites, with easy access via QR code or web link.
Masks
Appropriate and properly fitted masks are required in all indoor settings, including:
All work sites
Brilliant SA Office and Showroom
Indoor face-to-face meetings with clients where "close contact" conditions are present
We understand there may be exceptional circumstances or personal reasons preventing subcontractors or clients from meeting some requirements. Likewise, there may be situations where alternative solutions are permitted, at our absolute discretion.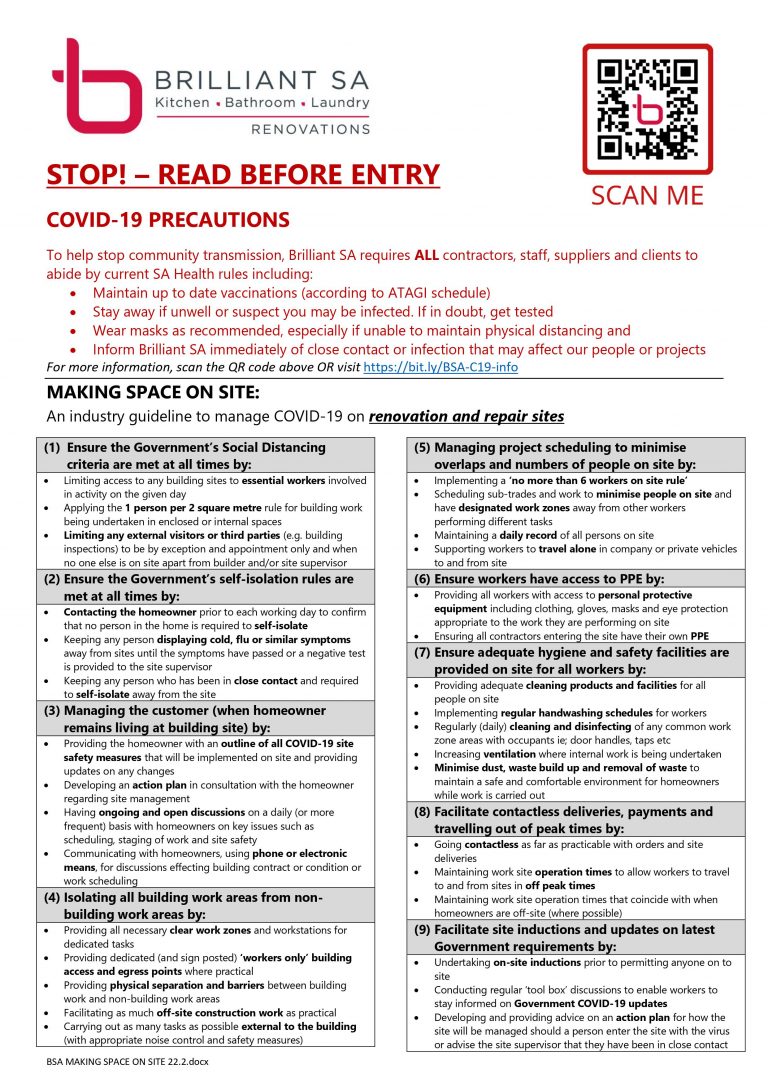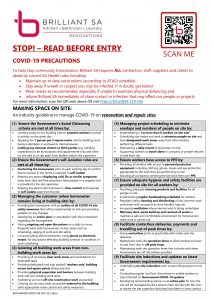 DOWNLOAD SIGNAGE
ONLINE CONSULTATIONS
While we always prefer meeting you in person, that's not always practical or possible. To overcome this, Brilliant SA also offers free online consultations via video link. If you're housebound, in quarantine or responsibly working from home to minimise external contact, this is for you.