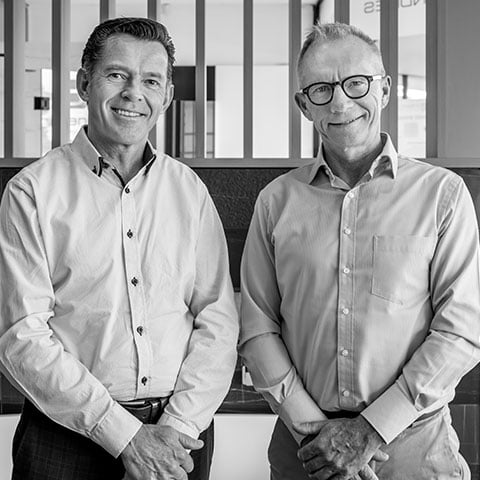 We've assembled our team from a range of talented people, each committed to their craft and driven by a desire to make your renovation as convenient as possible. We have a diverse array of professional experiences, talents and individual attributes, respected across the industry.
Below are our core operational team who will be the driving force behind the success of your renovation project.
Let us guide you through the process
Take the next step
DIRECTORS
Peter Sveinsson and Mick Pietrus formed Brilliant SA with the aim to make a difference. They set out to create a building company that would provide a new level of quality and service to their clients. To do this, Peter and Mick have adopted a company philosophy that is applicable to every aspect of the business.
They have built a team of dedicated people, each with unique skills, talents and expertise, who come together to do rewarding and meaningful work for people who care about quality results. They remain accessible and accountable – both to clients and the BSA team.
Peter and Mick apply their leadership skills, expertise and experience to provide their customers with a unique design and renovation experience.
---
DESIGNERS
Good design meets current needs, but great design allows for changes in the future as well.
A fulfilling design experience will come from a process where you're heard, where your wants and needs are considered and understood. The empathetic designer seeks to extract and interpret your thoughts, enrich them and add suggestions to bring your dream home to life.
Design is at the forefront of our business and we are immensely proud of our multi-award-winning design team, who are some of the best bathroom and kitchen designers Adelaide has to offer.
---
OFFICE STAFF
Our office staff are the backbone of our business and they are on hand to help you at every stage of the design and construction process. From your first visit to our showroom and throughout, these admin professionals are here to support you.
---
CONSTRUCTION SUPERVISION & MANAGEMENT
Once your dream space has been designed, you want peace of mind knowing the build and construct part of the process will be looked after just as expertly. It's here our Construction Supervision and Management team will be on-hand to manage every aspect of your renovation and answer any queries that may arise during the process. Our highly-experienced team has seen it all and has the skills and expertise to ensure your project is completed to the standard you (and we) expect.