We build our projects to last
Brilliant SA has been delivering top quality renovations since 2001.
Since day one, we have backed our work with an industry leading warranty and dedicated service to our clients. We're here for the long haul. This is why we only use contractors and suppliers we trust to perform over time. You can relax knowing that our work will outlast our Warranty.
We are proud to stand by our promises and offer you a peace of mind
10 YEAR WARRANTY
on all building work and materials.
We have systems in place to ensure that at the completion of each project, all final details are inspected and approved.
In the unlikely event that you do have a warranty claim, simply contact our office and we'll look after it.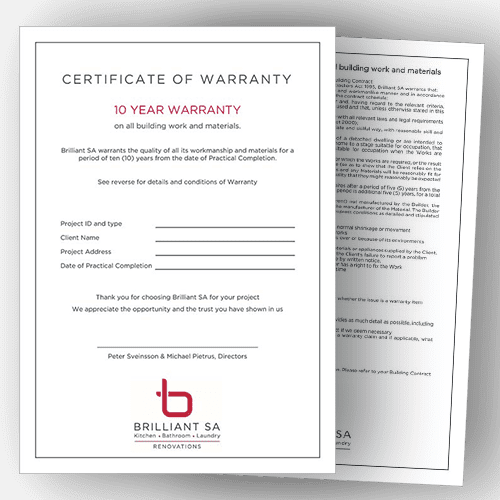 Fixtures and fittings are covered by manufacturers' warranties, which generally range from 1-30 years and up to "lifetime", depending on the product and supplier. When making your product selections, also keep in mind that the warranty promise is only as good as the company behind it.