From the outset our experience with Brilliant SA has been a rewarding one.
Brian & Janet
Hove
Happy clients are our greatest reward and accolade. Please check our client testimonials to see what customers have to say about their Brilliant experience.
"Completed before we needed to move"
"Thank you for the ease and manner in which you renovated my bathrooms and laundry. I do appreciate you kindness in bringing the work forward so that it was completed before we needed to move."
BSA Client
Bellevue Heights
"Our design and vision became a reality"
"Thank you Brilliant SA. A complete home renovation including new bathroom, kitchen and laundry was completed to the highest standards of workmanship. Our ideas were incorporated into the design and our vision became reality.
A special thank you to Bronwyn for design advice and support, always with a smile – and to David our Project Manager."
Lynne
Eden Hills
"Dream bathroom"
"I'd just like to take this opportunity to thank everyone who has been involved in giving us our dream bathroom, laundry and ensuite; we are extremely pleased with it. If we hear of anyone who is planning any bathroom renovations, we'll have no hesitation in recommending Brilliant SA. The standard of workmanship is excellent!"
BSA Client
Coromandel Valley
"Efficient and responsive"
"This company lives up to its name. We cannot speak highly enough of the professional, efficient and responsive service we experienced, from start to finish of the re-modelling of our tiny laundry. Reliable, available, skilled, those were the qualities in every staff member and tradesperson who worked on our project. Thank you."
Patrine & Adelmo
Millswood
"We needed someone who could do the lot"
"Brilliant SA recently completed a full renovation of our kitchen, bathroom and laundry. As part of the reno, we wanted to move doorways, remove a brick wall and include a large sky window, so needed someone who could do the lot! They were great. I'm pretty fussy and they certainly didn't let us down. There are always a few surprises when renovating an old house, and these were managed in a collaborative and cost effective way.
Many thanks to designer, Jo, building supervisor, Livio, and all the excellent staff and tradespeople at BSA for turning the vision into a reality. We highly recommend."
Beth & Craig
Colonel Light Gardens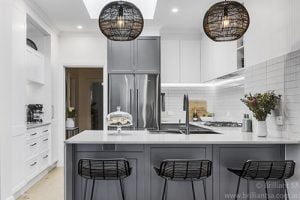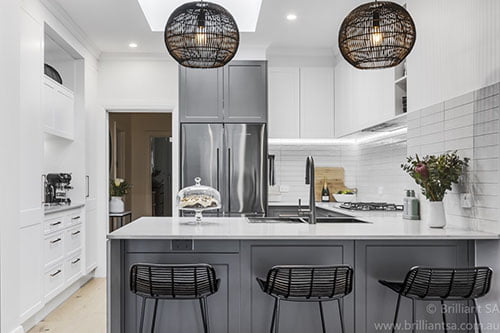 "Knowledge and creativity in the design"
"Jordan (designer) and David (project manager) did a fabulous job of renovating my tired and non-functional kitchen and laundry into stylish inviting utility zones. These new spaces are areas I now want to spend time in – my cooking is tastier, and my clothes are cleaner! Brilliant SA demonstrated exceptional knowledge and creativity in the design on my kitchen and laundry as well as experience and professionalism in the schedule and delivery of the project. Renovating my home with Brilliant SA was a positive experience."
View this Project.
Meredith
Forestville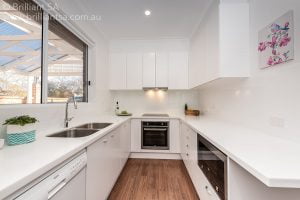 "Handled with professionalism"
"Having previously experienced an ensuite renovation with BSA, we were very happy for them to tackle the task of bringing our 1950's bathroom & 1970's laundry & WC into the 21st Century.
The process from the beginning to the end was handled with professionalism. They listened to our ideas and requirements and guided us through to a finished product that we are extremely satisfied with. This could not have been achieved without the experienced and competent Tradesmen who worked on our renovation.
We have thoroughly enjoyed this experience and highly recommend BSA to manage all aspects of your renovation, needs and requirements."
View this Project.
Richard & Sue
Daw Park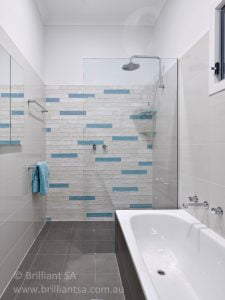 "We needed a quick start"
"From the outset our experience with Brilliant SA has been a rewarding one. We needed to get a quick start on our 2 bathroom & laundry complete makeovers which required us to look for an organisation that could manage this. Brilliant SA was able to provide this for us. The whole process from design through installation and completion was managed very well and we were kept up to date regularly both verbally and through their project management system. Whilst there were some issues, outside of the control of Brilliant SA, they managed these well…coupled with this was the quality of workmanship and consequently we are very pleased with the end result. We would recommend Brilliant SA to others!"
Brian & Janet
Hove
NEED HELP GETTING A START ON YOUR NEXT RENOVATION?