From the outset our experience with Brilliant SA has been a rewarding one.
Brian & Janet
Hove
Happy clients are our greatest reward and accolade. Please check our client testimonials to see what customers have to say about their Brilliant experience.
"Went the extra mile"
"Firstly, my sincere thanks to designer Steve Mahlo for his creative talent in transforming my unit into a lighter, brighter and more modern and functional space.
Many thanks and gratitude to all the tradesman involved in the renovation. I felt that you all went that extra mile to ensure that I was completely satisfied with the work being done. Also thank you to the office staff who were always friendly, courteous and helpful.
I love my new unit! Thank you Brilliant SA – I will highly recommend your business to anyone I meet who is contemplating a renovation"
Lynette
Dulwich
"The workmanship was exceptional"
"We would like to thank the team at Brilliant SA. We are delighted with the results of our Full Home Renovation. Steve was amazing, our kitchen is a delight to use and the fireplace is a masterpiece! Rob was our Project Manager – we could not have asked for more. Workmanship of the various trades was exceptional, the site was kept clean and tidy. In the office Deanne and Olivia deserve a mention!
We would recommend Brilliant SA to anyone planning a renovation."
Update:
"It is now almost 12 months since the completion of our renovation. We are so happy and would not change a thing a testament to a job well done.
A special thank you to Steve, the design is fantastic for us. The kitchen is a delight to use. The house is now furnished as we want, art works are
on the walls everything is now perfect. Thank you for your input and for listening to us.
Also Rob and the trades, thank you for a job you should all feel very proud of. We probably drove you all a little mad at times.
Mick we are very glad we choose Brilliant SA for our house renovation."
View this Project.
Barry & Jennifer
Tea Tree Gully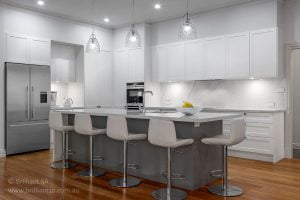 NEED HELP GETTING A START ON YOUR NEXT RENOVATION?